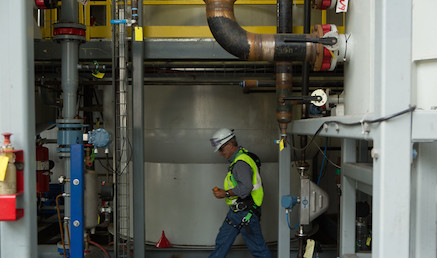 Transformational cleaning and dewatering process from Minerals Refining Company now commercially available
Virginia Tech-created process for fine coal and minerals uses surface chemistry to reduce waste, improve plant economics
RICHMOND, VA (SEPTEMBER 15, 2015) – A new cleaning and dewatering process, born out of decades of university research, is now commercially available for coal processing plants. Minerals Refining Company's patented technology can drastically reduce the amount of coal thrown away in impoundments by extracting salable product from a processing plant's waste stream.
To meet quality specifications, run of mine coal is typically sent to preparation plants to remove unwanted impurities. Over time, the mining industry has introduced technologies to improve separation and increase recovery of coal. Until the HHS Process, however, the industry has lacked an efficient, low-cost method of processing fine and ultrafine coal (the consistency of face powder).
MRC's technology – called the Hydrophobic-Hydrophilic Separation (HHS) Process – uses surface chemistry and a hydrophobic ("water-fearing") liquid to simultaneously clean and dewater fine and ultrafine coal and minerals.
"The HHS Process is truly transformative for the coal industry, which is in need of new methods of extracting value in an increasingly regulated and intensely competitive marketplace," said Dr. Stanley C. Suboleski, President of Minerals Refining Company. "Although only a small fraction of fine and ultrafine coal makes up a processing facility's product stream, recovering this additional product could have a remarkable effect on the economics of a preparation plant."
Testing of MRC's HHS Process on a wide variety of coal waste streams has consistently yielded a product well within range of typical quality specifications: ash contents of 3% to 6% and moisture values of 4% to 8%. The HHS Process' carbon recoveries are in excess of 80% to 90%, and all of it from material that would otherwise have been discarded.
MRC's pilot plant, located at a coal cleaning plant in Southwest Virginia, began operations in August 2015 and has produced results consistent with laboratory tests.
Minerals Refining Company's technology is offered commercially in the form of a modular plant installed near or adjacent to an existing coal preparation facility. HHS Process plants and operational agreements are tailor-made to each processing facility to ensure cost-effectiveness and a new revenue stream for customers, with minimal capital investment.
Built to chemical process safety standards, the HHS plant intercepts a facility's waste stream prior to the thickening process. Once the coal has been recovered, cleaned and dewatered, the high quality product is suitable for blending or briquetting.
"By further extracting usable product from waste streams, plant operators can uncover a new profit center out of materials that would otherwise end up in an impoundment," said Suboleski, a former Commissioner at the Federal Mine Safety and Health Review Commission. "The HHS Process is truly groundbreaking for our industry and can lead to a new future for coal processing."
The HHS Process emerged from decades of research by Virginia Tech's Dr. Roe-Hoan Yoon, a University Distinguished Professor and Director of the Center for Advanced Separation Technologies (CAST). In 2010, Dr. Yoon and research partner Dr. Gerald Luttrell made a laboratory breakthrough in recovering the finest fractions of minerals and coal, using surface chemistry. After sharing batch lab scale results with Dr. Suboleski, the former Professor and Department Head of Mining and Minerals Engineering at Virginia Tech, the group approached industry veteran and long-standing supporter of the university, E. Morgan Massey. His group, Evan Energy Investments LC, funded commercialization of the technology.
Minerals Refining Company's core markets are in both metallurgical and steam coal, but the HHS Process also has future applications in the broader minerals industry, such as copper, lead, zinc and silver, as well as industrial metals and rare earths.