Minerals Refining Company
MRC's groundbreaking separation technology cleans and dewaters ultrafine coal, using surface chemistry to create a high-quality salable product, reduce waste, and dramatically improve plant economics.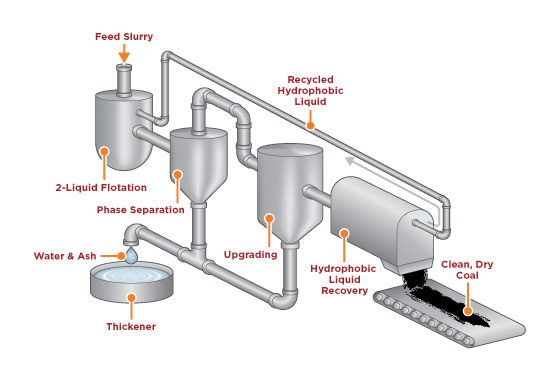 The HHS Process
Minerals Refining Company's patented, university-developed technology, called the Hydrophobic-Hydrophilic Separation (HHS) Process, uses surface chemistry to simultaneously clean and dewater fine (-100 mesh) and ultrafine (-325 mesh) coal. The result is more tons of salable coal, reduced waste, and improved plant economics.
Learn More
Commercial Applications
TAKE BACK YOUR WASTE STREAM WITH MRC.
Minerals Refining Company's separation technology is offered commercially in the form of a modular plant installed near or adjacent to an existing coal preparation facility.
MINERAL MARKETS
Although MRC's initial focus is in the coal industry, our technology has applications throughout mineral markets such as copper, lead, zinc, and silver mining operations.
Learn More