Minerals Refining Company is steered by some of the industry's most respected and prominent individuals who have dedicated their lives to the advancement and improvement of the mining and energy industries.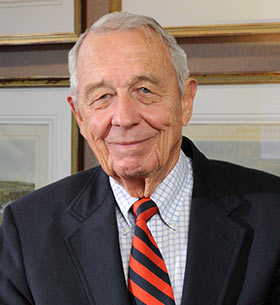 E. Morgan Massey
Chairman of Evan Energy Investments; former President of A.T. Massey Coal Company, founder of Inter-American Coal S.A., Asian American Coal Inc., and AAG Energy Ltd.
For nearly 65 years, E. Morgan Massey has led coal operations throughout the United States, South America and China. After becoming president in 1972 of A.T. Massey Coal Company, he grew the company founded by his grandfather to become the 4th largest coal enterprise in the U.S. As the founder of Evan Energy Investments, Mr. Massey has built on his family's long history in the energy industry through the funding of bold new projects around the world. He has served on the boards of three public companies, including St. Joe Minerals Co., Fluor Corporation and Owens & Minor. In addition, Mr. Massey has held a number of distinguished professional, university, and community affiliations, including as Director of Massey Cancer Center (Medical College of Virginia), and Chairman of their Capital Campaign Committee, Board of Advisors & past Vice Chairman of Virginia Institute of Marine Science, President of the VIMS Foundation, Board of Advisors of University of Richmond, Director and Secretary/Treasurer of the Massey Foundation and Board of Directors of Virginia Commonwealth University, School of Engineering. A Richmond, Virginia native, Mr. Massey and his wife Joan Carpenter Massey have had a tremendous philanthropic influence on their community.
---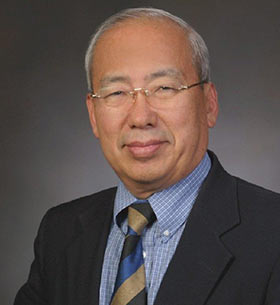 Dr. Roe-Hoan Yoon
University Distinguished Professor at Virginia Tech, Director of the Center for Advanced Separation Technologies (CAST), Inventor of the HHS Process, Inventor and founder of Minerals & Coal Technologies Inc.
Early in his career, Dr. Roe-Hoan Yoon concentrated on fine particle flotation, research that led to the development of the Microcel flotation columns that are widely used in the coal industry today. During the past 25 years, Dr. Yoon has focused heavily on the study of hydrophobic interactions, which has led to the development of new equipment, additives, and innovative models and processes – including the HHS Process now licensed by MRC. His work has led to more than 330 technical publications, 13 book chapters, a book, and more than 40 plenary and keynote papers at national and international meetings and Congressional testimonies. An award-winning member of the National Academy of Engineering, Dr. Yoon has more than 70 U.S. and international patents, many of which have been successfully commercialized through license agreements.
---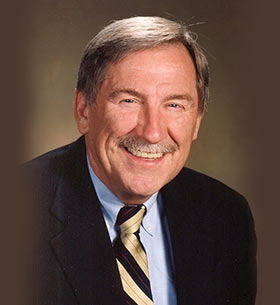 Dr. Stanley C. Suboleski
Senior Vice President at Evan Energy Investments; former Interim COO and Director of Massey Energy, Commissioner on the U.S. Federal Safety and Health Review Commission, Department Head of Mining Engineering at Virginia Tech
As a former Commissioner at the Federal Mine Safety and Health Review Commission, Dr. Suboleski has worked in many facets of the mining industry. He was involved in numerous Massey-affiliated companies throughout his career and after originally retiring from Massey Energy Co., he returned to the company as Executive Vice President, Interim Chief Operating Officer, and prior to its June 2011 sale, as a member of its Board of Directors. Between retirements he served as Professor and Department Head of Mining and Minerals Engineering at Virginia Tech, and joined Evan Energy following the Massey Energy sale. Dr. Suboleski is a Distinguished Member of the Society for Mining, Metallurgy and Exploration (SME) and in 2004 was elected to the National Academy of Engineering.
---
Robert H. Gentile
CEO of Leonardo Technologies; former Assistant Secretary of Energy for Fossil Energy, Director of the Office of Surface Mining at the Department of the Interior, CEO of the Ohio River Collieries
Robert H. Gentile started working in the coal mining industry when he was 16 and later in his career ran a number of surface coal mining companies in Ohio.  With more than a half-century of energy experience and technology management, Bob Gentile is currently President and CEO of Leonardo Technologies Inc.  He previously served as Director of Surface Mining at the U.S. Department of The Interior in the late 1980s and was Assistant Secretary of Fossil Energy for the U.S. Department of Energy in the early 1990s. Mr. Gentile is a highly regarded expert in the global energy arena and has extensive international experience with the World Energy Council, the International Energy Agency, and the Carbon Sequestration Leadership Forum. He sits on several corporate and advisory boards and has worked in many countries throughout the world.
---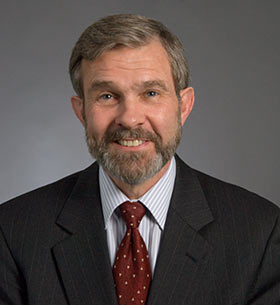 Carl O. Bauer
President of C.O. Bauer Consulting, former Director of the National Energy Technology Laboratory (NETL)
Carl Bauer has more than 35 years of industry and public service in energy technology development, energy systems and policy development and executive management. As Managing Director of NETL, Mr. Bauer was responsible for directing and overseeing the implementation of major science and technology development programs at the lab as well as $2 billion of jointly funded RD&D with the industry. Carl has served on the University of Wyoming School of Energy Resources (SER) board since 2009. He serves on several corporate boards and holds a bachelor's degree in marine engineering from the U.S. Naval Academy. He has participated in postgraduate programs and courses at the Wharton School of Business and George Washington and Harvard University's John F. Kennedy School of Government.
---
Scott Keim
Chief Executive Officer and Partner of Marshall Miller & Associates
Mr. Keim has over 35 years of experience in the energy and mineral resources industry.  In addition to his executive role, Mr. Keim directs MM&A's projects involving reserve evaluations, predictive geological mapping, merger and acquisition evaluations, geological and engineering applications, feasibility studies, coal quality assessments, and wire-line geophysical applications.  His experience in diverse geologic applications extends throughout the coal-bearing regions of the United States; eastern and western regions of Australia; China's Shanxi Province; the Guasare coal basin of Venezuela; Colombia; Canada; Mexico; Turkey, and the Czech Republic. He serves on the Advisory Board to the Virginia Center for Coal and Energy Research and is a recognized Member of the Society of Mining, Metallurgy, and Exploration (SME), and the American Institute of Professional Geologists.