A Partnership For Cleaner Coal

MRC's groundbreaking separation technology cleans and dewaters fine and ultrafine coal, creating a salable product, reducing waste, and improving plant economics. Conceived in the laboratories of Virginia Tech and commercialized in partnership with industry veterans, MRC's technology heralds a new future for coal and mineral processing.
Our History
Although our technology is new, the relationships that form the foundation of MRC are nearly a half-century in the making.
For nearly four decades, Dr. Roe-Hoan Yoon has focused his research on methods to improve separation and recovery of fine coal and minerals. As Director of the Center of Advanced Separation Technologies (CAST) at Virginia Tech, Dr. Yoon has invented and licensed equipment, additives and processes that have been employed by the mining industry to produce billions of dollars' worth of raw materials. To date, he has 57 U.S. and international patents to his credit, many of which have been commercialized.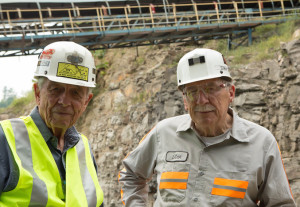 In 2010, Dr. Yoon and research partner Dr. Gerald Luttrell made a laboratory breakthrough in recovering the finest fractions of minerals and coal, a process which showed great promise of both cleaning and dewatering the particles.
Upon sharing batch lab scale results with Dr. Stanley Suboleski, former Professor and Department Head of Mining and Minerals Engineering at Virginia Tech, the group approached industry veteran and long-standing supporter of the university, E. Morgan Massey.
Immediately recognizing the potential of the technology, Mr. Massey's Evan Energy Investments funded continuous laboratory-scale testing of the process, which proved successful. With the support of industry leaders Dr. Peter Bethell, Carl Bauer, and Bob Gentile, the group launched Minerals Refining Company in 2012 to further prove and ultimately commercialize the HHS Process for coal processing plants around the world.